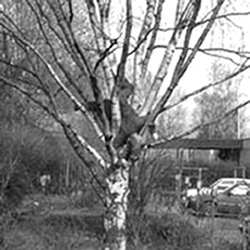 FRAGMENTS OF OUTOKUMPU
is a site-specific performance structured as a guided tour in an old mining town in the Keralia, Finland. A local guide tells the history of Outokumpu city, while Performers engage in physical 'dialogues' in different sites along the itinerary. The dialogues are created with scores that purposely allow each site's character to condition the movements of the performers, so that the place itself can 'speak out' to the audience as much as the performers. The objective of this site-specific work is not to interpret Outokumpu through dance. But rather, to show fragments of Outokumpu through direct physical explorations in a range of psychological and somatic perspectives.
Directors:
Louise Bertelsen, Po Shu Wang
Performers:
Erika Aalto, Ludcia Khabibulina, Hanna Lappalainen, Milla Rinne, Annamaria Ruzza, Noora Nenonen, Aino Terävä, Sari Tuunanen, Jae Wood, and outokumpulaiset.